The Third International Conference
on Balkan Cinema
The Great War(s): Our Story
"Ion Heliade Rădulescu" Amphitheatre
Romanian Academy
125 Calea Victoriei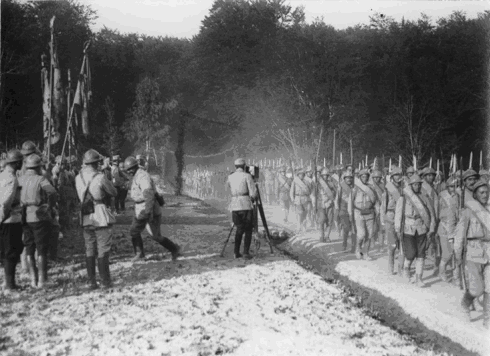 Following on the second International Conference on Balkan Cinema that took place in Belgrade in 2017, The Great War(s): Our Story aims to explore how the Great War and other conflicts in the region have been narrated through cinema. The 3rd International Conference on Balkan cinema focus on moving images made by filmmakers both from within and outside the Balkans in order to highlight the connections and differences between these war narratives that have at times coalesced into "our story". The term "our" can refer self-reflexively to a view from the Balkans as both a unified but also more dispersed space, but also to a range of identities: victims or perpetrators, civilians or soldiers, women and children in devastated cities and in the wasteland of the countryside, or men on the front, the generations of participants or the post-generations.
These war narratives told from different perspectives of the involved parties eventually challenge History or work with it, or bring together diverse and often confronting and competing national histories.
The G. Oprescu Institute of Art History in Bucharest hosts the event in commemoration of 1914-18 War, but also as an opportunity to analyse and map out the rich range of insights offered by cinematic images of war and recounted through multiple narratives of wars in the region – from the Balkan Wars to the breakup of former Yugoslavia. War has been one of those perennially rich topics since the beginning of cinema, narrated through a wide range of genre guises, from documentaries to fiction films, war spectacles, historical films, melodramas, musicals etc. For instance, documentary war footage is a key component in historiography, while fictional portrayals of war are source of entertainment and pleasure, as well as material for the recognition of trauma, suffering, and victimisation. Nowadays, popular archival documentaries or docufictions have transformed films on history into "memory making films", by showing that cinematic narratives of the past and present wars are important factors in the politics of remembering and forgetting, and constituents of collective/individual/national memory and identity.
Being part of a series, the conference aims to further develop transnational scholarship, transcend Balkanism and exoticism, and offer critical explorations of historical and contemporary manifestations of South Eastern European cinemas. It also helps the building of the transnational community of scholars working on the cinemas of the Balkans, South/Eastern Europe, the borders and neighbouring regions such as Central Europe or Near East, works of diaspora or communities in exile, spanning from early cinema on nitrate stock to contemporary digital cinema; and dealing with a range of themes set in the present or the past.
10.00
Welcome speech of Professor LAURENȚIU DAMIAN, president of the Romanian Filmmakers Union (UCIN)
Welcome speech of ADRIAN-SILVAN IONESCU, director of G. Oprescu Institute of Art History
10.15
Representation, Identity, Diversity Panel 1
Chaired by Dominique Nasta
BETUL BALABAN (Turkey): Comedy, Safest Way Out: Greekness and the primordial "other", Turks in Nikos Perakis' Loafing and Camouflage: Sirens in the Aegean
10.30
VESI VUKOVIĆ (Bosnia and Hertzegovina): Treacherous Women: Representation of Female Characters as Traitors of the Nation in Partisan-themed Yugoslav New Film and Black Wave Cinema
10.45
MIHAELA GRANCEA and OLGA GRĂDINARU (Romania): Mythologization of Ecaterina Teodoroiu in Romanian Movies
11.00
ADRIAN-SILVAN IONESCU (Romania): The Uniform as Key Element for War Movies. A Critical Approach
11.15
YILMAZ ÖZDIL (Turkey): La représentation de la guerre dans le cinéma kurde
11.30
Q & A
11.45
Coffee break
12.00
Keynote Speaker: Prof. NEVENA DAKOVIĆ (Faculty of Dramatic Arts, University of Arts, Belgrade): Transmedia Storytelling of the Great War: Stanislav Krakov
12.45
Q & A
13.00
(Our) Stories to be Told
Chaired by Lydia Papadimitriou
VICTORIA BALTAG (UK): European Avant-Garde Cinema in the Interwar Era: The application of film theories to practice. Study case: Benjamin Fondane
13.15
DANA DUMA (Romania): Metaphors of War in Romanian Animation Films
13.30
TANJA JURKOVIĆ (Croatia): "Yugo nostalgia" and Horror Films in ex-Yugoslavia
13.45
MIRCEA DEACĂ (Romania): Culture of violence in the New Romanian Cinema. The influence of Michael Haneke aesthetics
14.00
DRAGAN BATANCHEV (Serbia): 50 Years since 1968: A War Film Reflecting the Student Protests
14.15
Q & A
14.30- 16.00
Lunch break
16.00
Framing WW1 Panel
Chaired by Savaș Arslan
ROXANA CUCIUMEANU (Romania): "The Dregs of Bucharest, Wretches Picked up off the Streets and Cafés": Framing of Wartime Experience in Through the Ashes of the Empire (Andrei Blaier, 1976)
16.15
PETAR KARDJILOV (Bulgaria): Cinematographic activity in the Romanian territory of Dobrudja during its conquest by the Bulgarian troops during the First World War (1916-1918)
16.30
ADRIAN LEONTE: Verbal Information vs. Iconic Information in the film Duty and Sacrifice
17.00
DINU-IOAN NICULA (Romania): WW1 in Romanian Literary Screen Adaptations
17.15
Q & A
17.30
Coffee break
17.45
Special screening (Ion Heliade Rădulescu Amphiteatre)
Celebration of the Union with Bessarabia/ Serbările Unirii Basarabiei (1918, Romania, directed by Constantin Ivanovici, documentary, mute, runtime: 6 min.)
War and Peace in the Balkans (2015, Greece, directed by Andreas Apostolidis, documentary, runtime: 57 minutes, English voice over, Romanian subtitles)
10.00
Film Archives Panel: Method, Model, Media
Chaired by Dana Duma
ALEKSANDRA MILOVANOVIĆ (Serbia): The Great War and Archives: Questioning the Future of Audiovisual History in Serbia
10.15
BILJANA MITROVIĆ (Serbia) and SANDRA NIKOLIĆ: The Great War and Serbian Film: Archives and Cultural Memory
10.45
MIHAI FULGER (Romania): Balkan Cinema Ritrovato
11.00
BRANKA PAVLOVIĆ (Serbia): Perceptions of War: WW1 in visual arts
11.15
Q & A
11.30
Coffee break
11.45
Keynote Speaker: Prof. DOMINIQUE NASTA (Université Libre de Bruxelles, Belgium): Early European Narrratives around World War I and their Impact on Balkan Film Style
12.15
Q & A
12.30
Remembering War(s) Panel
Chaired by Manuela Cernat
MELINDA BLOS-JÁNI (Romania): Photographic Passages into the Memory of the Second World War
12.45
TAMARA KOLARIĆ (Croatia): Remembering the 'Homeland War': Films Dealing with the Past
13.00
INGRID LEWIS (Ireland): Aligning "Our Story" to Mainstream Histories: Women in Balkan Holocaust Cinema
13.15
IULIA VOICU (Romania): Ghosts of the war in found footage cinema
13.30
Q & A
13.45- 15.00
Lunch break
15.00
Interwar and WW2 Panel
Chaired by Marian Țuțui
MANUELA CERNAT (Romania): Romania on the Eastern Front
15.15
IGOR POP TRAJKOV (Macedonia): The Beginnings of the Cinema Authors in the History Productions
15.30
ALEX FORBES (UK): Doomed Souls and the War that Won`t Die
15.45
ROSEN SPASOV (Bulgaria): Bulgarian specialized cinema periodicals during World War II
16.00
Q & A
16.15
Coffee break
16.30
Representation, Identity, Diversity Panel 2
Chaired by Nevena Daković
SAVAȘ ARSLAN (Turkey): Documenting Early Cinema through French Film Magazines
16.45
ELENA DULGHERU (Romania): Desemantisations of national history in Romanian cinema after 1989
17.00
BORIS PETROVIĆ (France): Usage of mythical narrative in the framing of "our" side vs "theirs"
17.15
MARIAN ȚUȚUI (Romania): Four visions on the Balkans from down under
17.30
IGOR STARDELOV (Macedonia): Refugees and Film. A Typical Balkan Topic
17.45
Q & A
Screening at the Romanian Cinematheque
"Jean Georgescu" Cinema Theatre, 2 Eforie Street
18.00
Documentary Gems in the collection of the Romanian National Film Archive
Scenes from the Life of Vlachs in the Pindus/ Scene din viața aromânilor din Pind (1907-1912, directed by Milton and Ienache Manakia, mute, documentary, 6 minutes);
A Journey to Turkish Macedonia/ Excursie în Macedonia turcească (1911, directed by Milton and Ienache Manakia, 7 minutes);
Războiul nostru/ Our War (1920, Romania, directed by Constantin Ivanovici, Georges Ercole, Tudor Posmantir, documentary, mute, 9 min.);
The Visit of the Russian Imperial Family in Constantza/ Vizita familiei imperiale ruse la Constanța (1914, Romania, directed by Gheorghe Ionescu, Nicolae Barbelian, Victor de Bon, Constantin Ivanovici, Svoboda, documentary, mute, 25 min.)
The Country of Motzi/ Țara Motilor (1939, Romania, directed by Paul Călinescu, documentary, special award in Venice, Romanian voice over, 20 min).
20.00
Six Old Romanian Fiction Films
Ecaterina Teodoroiu (1930, Romania, directed by Ion Niculescu-Brună, war, espionage, WW1, 40 min.)
Duty and Sacrifice/ Datorie și sacrificiu (1926, Romania, directed by Ion Șahighian, war melodrama, WW1, 21 min.)
Lache in the Harem/ Lache în harem (1927, Romania, directed by Marcel Blossoms and Vasile D. Ionescu, comedy, 10 min.)
Gogulică Railwayman/ Gogulică cheferist (1929, directed by Cornel Dumitrescu, comedy, 9 min.)
This is Life/ Așa e viața (1928, directed by Marin Iorda, comedy, 7 min.)
Haplea (1928, Romania, directed by Marin Iorda, animation, 9 min.)
Organised by G. Oprescu Institute of Art History
With the support of:
The Balkan Cultural Institute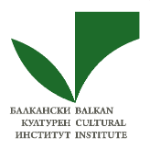 Copyright © Institutul de Istoria Artei "G. Oprescu", 2013