Conferences, symposiums, colloquia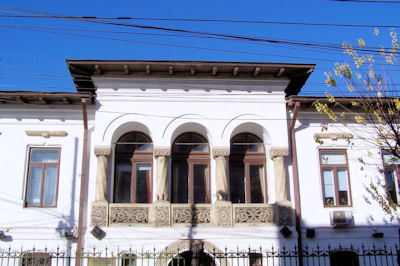 Beginning with September 2011, the G. Oprescu Institute hosts monthly meetings where researchers share with their colleagues various novelties in the field of fine arts, theatre, music or film history.
The project "IAH kinema" started in February 2017. Films of documentary and artistic value, less known to the Romanian public, will be projected occasionally for researchers interested in the history of cinema.
Venue: G. Oprescu Institute of Art History, Calea Victoriei 196.
MARIAN ȚUȚUI (editor)
Drumuri și răspântii/ Roads and Crossroads, Romanian-English bilingual edition, Fundația pentru poezie "Mircea Dinescu", 2016
NEWS FROM THE NATIONAL UNIVERSITY OF ARTS BUCHAREST
The Annual Conference of the Faculty of Art History and Theory, 7th edition, took place on 25 and 26 November 2016 at UNAGallery.
Three members of G. Oprescu Institute were invited to deliver papers on this occasion: Professor Alin Ciupală, lecturer Vlad Bedros and researcher Cristina Cojocaru.
The conference program, available only in Romanian, can be downloaded below.
Awards and honorary degrees
Suzana Móré Heitel (1947-2008) was posthumously awarded the 2010 "George Oprescu" Prize of the Romanian Academy for her book Începuturile artei medievale în bazinul inferior al Mureşului. The awards ceremony took place on 13 December 2012.
During the last 18 years of her life, Suzana Heitel was a researcher at the Institute of Art History - the Department for Medieval Art and Architecture.
The 2009 "George Oprescu" Prize of the Romanian Academy went to Ioana Iancovescu (Institute of Art History) and Corina Popa (National University of Arts Bucharest) for their monograph Mănăstirea Hurezi. The awards ceremony was held on 15 December 2011.
Copyright © G. Oprescu Institute of Art History, 2013